From the very first introduction and menu,Persona 5 leaps onto the screen with style and confidence that is for the most part held throughout the lengthy 80+hour experience. Not relying on mere flashy aesthetics, Persona 5 possesses a substantial and compelling narrative and an excellent turn based combat system, and a surprisingly interesting social life simulator element.
Without spoiling or going into excessive detail about the narrative that is the cornerstone of this lengthy JRPG experience, the basic premise of Persona 5 is the following: you play as a transfer student with a criminal record based on a false accusation that gets transferred to a Tokyo school called Shujin Academy. However, you become imbued with a strange and mystical power that allows you to access the Metaverse, which is an alternate, physical dimension of people's subconsciousness,  either as a collective unconsciousness in the case of Mementos, a procedurally generated dungeon, or Palaces, which are for individuals with deeply distorted desires, moreso than the small fry in mementos.  Once your merry band of Phantom Thieves is formed, you set about stealing people's hearts in this realm in the hope of reforming society. It's a wonderful premise that has a rebellious, idealistic edge yet balances this with drama, positivity and doesn't shy away from the implications of it's own premise. There are also plenty of moments of levity and comic relief, which hit more often than they miss and rarely feels inappropriate or as if it's trying to convey a sense of ironic detachment. The utter sincerity of the whole thing is part of what makes it such a joy to experience.
What makes the story work as well as it does is the characters. From Ryuji,a former track team member with an impulsive and rebellious attitude, or Ann who is a kind hearted beauty,Futaba the shut in, or Makoto the honour student and Yusuke the slightly pretentious artist. These are just some of the characters in your party and they all have excellent chemistry, which is helped by quality, believable voice acting.  All these characters are more than they initially seem and their individual storylines are all worthwhile. There are also non party member confidants, such as Tae Takemi, the punk town doctor, Sojiro your legal guardian, Kawakami the homeroom teacher, Ohya the alcoholic journalist, Mishima the fanboy or Yoshida the washed up politician to name a few. You will want to try and experience as much of these substories as you can too as they offer substantial bonuses for combat abilities, Personas and generally increasing your power.
This ties into the social life simulator aspect, which is more than mere interludes and are important to the storytelling and overall flow of the game. You can also increase five social stats through certain activities, such as knowledge through studying or answering questions in class correctly. These are necessary, as a skill check, in order to progress certain confidant substories. Everything feeds into each other in this core loop, and while this all might sound mundane, as part of the overall experience, it elevates the narrative and dungeon crawling. The main negative of the social stats for me is the interface as the progression between level one and level two of a particular stat is not terribly clear.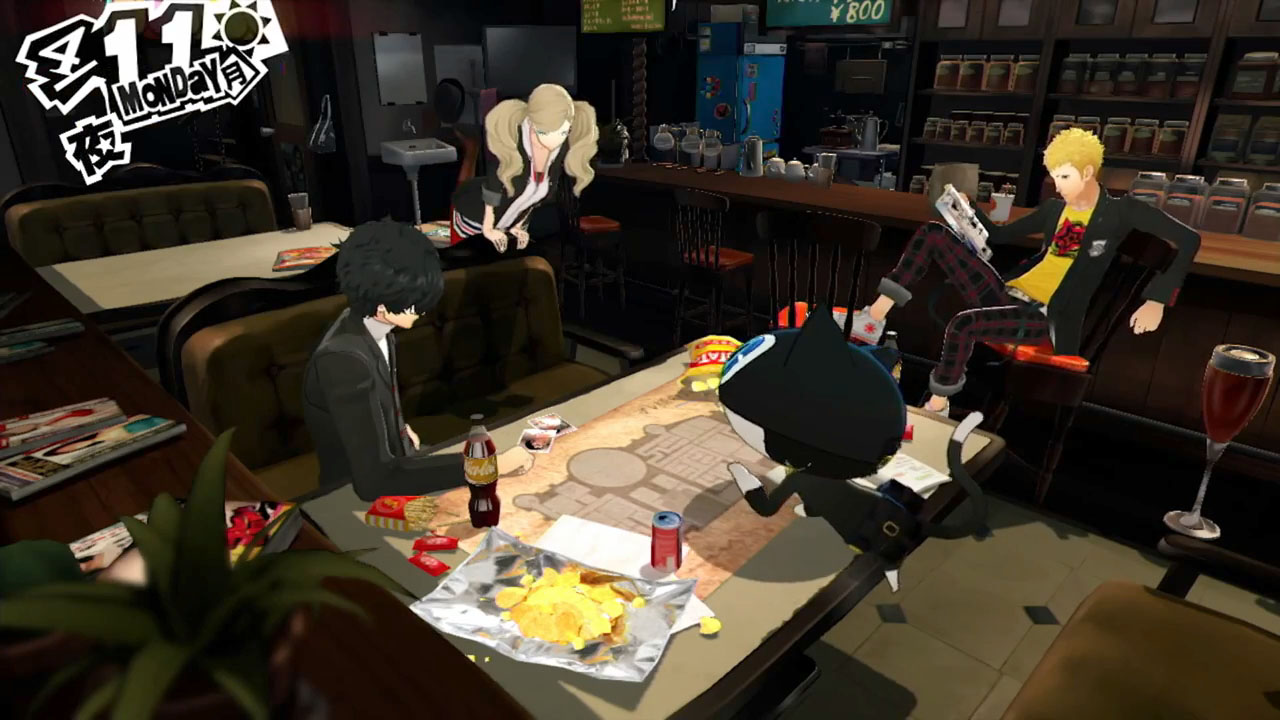 Most of the female confidants also have romance options that can be taken at the conclusion of their substory, and while it possible to have multiple options with no consequence (unless you do new game+), I went with only Makoto and found that to be grounded, satisfying and heartwarming. Although it doesn't directly have impact on the main story as far as I can notice, it is still presented in such a way that adds extra weight to proceedings. It is deftly handled and not clumsy like many popular western action RPGs that include romance options, or a checkbox element like in many Hollywood action films.
The writing overall, then, is of a high quality. But there are two substantial irritations that hold it back somewhat. The first is that it can be incredibly exposition heavy, especially in the first 10 hours, which can cause certain scenes to drag on just a little bit. The second issue is that when entering a Palace for the first time, a party member will comment on what the Palace represents even though in the lead up, and from the visual of the Palace itself, it is blindingly obvious what it represents. This kind of exposition feels clumsy and unnecessary. As I hinted at previously, the game also possesses it's fair share of anime cliches (there's even a section that is pretty much a beach episode) but none of it feels like filler, nor does it feel cringeworthy or rote.
In regards to the combat, it is pretty traditional turn based JRPG fare but with a few tweaks of it's own that keep it from feeling slow or tedious. For one, exploiting elemental weaknesses of enemies provides more than just a damage bonus, but also enables you to have an extra turn and these can be chained when facing multiple enemies. Once all enemies are downed, you enemies are held up and you have multiple options: an all out attack for massive damage, or you can mug them for cash or items or you can acquire them as a pokemon Persona of your own. There is a gigantic roster of Personas, ranging from small scale supernatural beings, such as faeries, succubi, jack frost, slimes to penis monsters, a risque Lilith and even deities such as Dionysus, Kali, Thor and Anubis. All of these can be combined in some way to create more powerful pokemon Personas. Visually, all the mythical entities the game represents are all strikingly presented in ways you would expect but also in ways that are unexpected and they range from cute, to monstrous, threatening and sometimes even a bit arousing. In fact, sexual imagery and themes are very prominent here, but even with things such as obvious penis monsters, fetish-looking catsuits and a persona that channels a bit of femdom, it never feels excessive or juvenile.
Aside from this, you will be using your usual buffs, debuffs, guns and regular attacks to defeat enemies as you would in any other JRPG. The combat interface is also bold and stylish without sacrificing user friendliness and responsiveness. The overall feel is slick and fast paced. You can also give your party members automated tactics to fit them into tank/healer, etc roles in combat but I stuck with direct commands, so I am unsure of how good the party AI is when left to their own devices.
There are also a total of five difficulty levels and I played on normal, which I feel offered a fair challenge the vast majority of the game, but on the whole it wasn't terribly difficult most of the time. But I didn't feel under-levelled, nor did I feel the need to compulsively grind and over-level on this difficulty setting which for me is a plus in any JRPG, especially long ones. I imagine on Hard and above this would become a necessity. There is also Easy mode, and an even easier mode called Safe mode, which I imagine would deprive the game of any challenge to the point where you might as well not even be playing the game. If you just want to experience the story, there's an ongoing anime adaptation for that.
Palaces themselves are increasingly complex dungeon crawls, all with varied themes and striking visuals from a medieval looking castle, an appropriately garish museum or an Egyptian pyramid with a digital touch, everything feels well designed. However, there is also a "stealth" element which is just hiding behind bits of obvious cover. This can be used to slip past enemies, but only sometimes since corridors are quite tight and their patrol routes and AI are very basic. Usually it's best to use for ambushing enemies, which gives you a leg up by guaranteeing your party the first turn. Trying to slip past enemies can feel a bit clunky and on more than one occasion resulted in me getting ambushed by enemies instead.
The overall look and feel of Persona 5, while not technically impressive, looks stunning nevertheless due to it's bold,anime-inspired art direction that makes the fantastical worlds a marvel to experience and even the more mundane areas of Shujin Academy or Shibuya are pleasant to look at.  The only downer is parts of the procedural generated Mementos levels since they can look quite dull at first, although each area does look slightly different and becomes a bit more interesting to look at towards the end. Cutscenes are excellent too, especially the 2D anime cutscenes, which exhibit excellent production value and are always a joy to watch on the occasion they show up.
The music is similarly excellent, with funky, upbeat and high energy battle music, especially during the final stretch of a Palace dungeon. All the other music is on point as well at utilised very well to match the tone of a particular scene. However I do wish there was a little more variety in the score, especially in battles, mainly because of the game's length but also more unique boss themes, at least for those in the main story, would be appreciated.
To wrap this review up, Persona 5 stands as simply one of the best JRPGs around and shows that the turn based combat typical to the genre is not dated, boring or slow at all. Plus, the narrative and characters are compelling and worth the emotional and time investment. I laughed, I cheered and I even almost shed a tear or two at certain points.  The storytelling is mature but also sincere and uplifting, while never being shy of embracing it's darker aspects. My heart has been captured by this band of Phantom Thieves.
9/10